Please confirm that the website domain in your browser URL is www.talismanonline.com (Important !).
* Please input T-Points Code.
* Please input T-Points Code password.
* Please input your game account (NOT Character name).

* Click on the image to refresh captcha number.
Use VIP points. What is VIP Points?
Game Account
Section
Credit T-Points
You have totally VP, you can use up to VP (1VP=1TP) this time.
How many VIP Points you want to use? :
Total T-Points you can get in game this time :
Hints:
Credit T-Points (
>=10 T-Points
) and get an extra C-Points bonus! Rebate rate is
5%
.
When you succeed in credit, T-Points will be added to your game account automatically. Please login game to check it in your in-game Shop.
You can credit T-Points to your game account by using T-Points Code, only if your account has a character reaching level 15 or higher !
T-Points under one game account can not be shared on different Sections.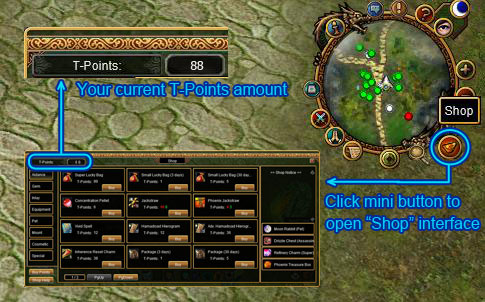 Note: if you meet any problem about credit, please feel free to write to TalismanPoints@gmail.com with your T-Point Code and Password.